Here's the follow-up post to the previous one. This time, I talk about my collection of writing/editing/publishing books that weren't purchased for school but out of my own interest. Enjoy!
1. On Writing by Stephen King
I have not read this one yet, but it looks promising. I'm not a fan of King's writing; that is, I've never read any of his novels. However, he is very popular and that must mean his writing tips are probably helpful. That was my logic when purchasing the book, but now as I skim through it I am realizing it's more of Stephen King's biography. There's snippets about his brother, his marriage, his past jobs, etc. If you're interested in King or getting inside such a great writer's head, I'd recommend this one.
2. Writing: Grammar, Usage, and Style by Jean Eggenschwiler, Emily Dotson Biggs, CliffsNotes
This one is great for consulting basic grammar. If you're unsure about spelling or comma placement, it's helpful to read this one. Or if you're like me and havw never been able to figure out how to use a semi-colon properly or memorize the definitions of basic literary terms like adverb, I'd recommend this one. However, you could just as easily Google the very same things in this book and come up with results just as helpful.
3. The Copyeditor's Handbook by Amy Einsohn
This one is super helpful. The title is self-explanatory and the content lives up to its name. I haven't gone through the whole thing yet but I hope to one day.
4. Let's Get Digital by David Gaughran
This book is awesome for understanding today's publishing industry and gives great pointers for self-publishing. See my previous posts on this book!
5. The Penguin Dictionary of Literary Terms & Literary Theory by J.A. Cuddon
Super dense but super useful, especially if you're taking an AP English course that requires knowledge of literary terms.
6. Great Jobs for English Majors by Julie DeGalan & Stephen Lambert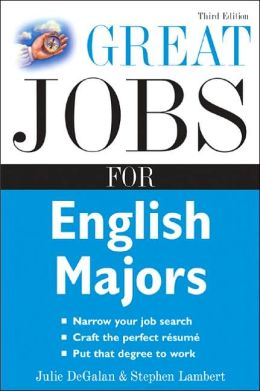 I have this one 3/5 stars on Goodreads. Here's my review:
This isn't what i was expecting. Luckily, I ordered it online for cheap so i didn't mind. I wish it would've talked more about the job positions and such, since it IS entitled "Great Jobs…". All the self identification stuff was really cliche and unnecessary. I also could have done without the resume writing stuff, but i'll admit that it was somehow helpful. For someone like me, a high school senior that's exploring major and career options for college, this book wasn't the most helpful. Others might be of a different opinion though.